Forest School

Currently, regular Forest School sessions are only available to Nursery class but the Forest School site will be open soon for all children to access during lunchtime as part of OPAL play and Miss Salter plans to open it to children and parents at open events throughout the year.
Miss Salter is the only Forest School qualified member of staff so if you have any questions please speak to her via the school office. Miss Salter is happy to offer suggestions for activities to do at home.
There will be a forest school after school club for all key stages later in the year when the weather allows us to access it.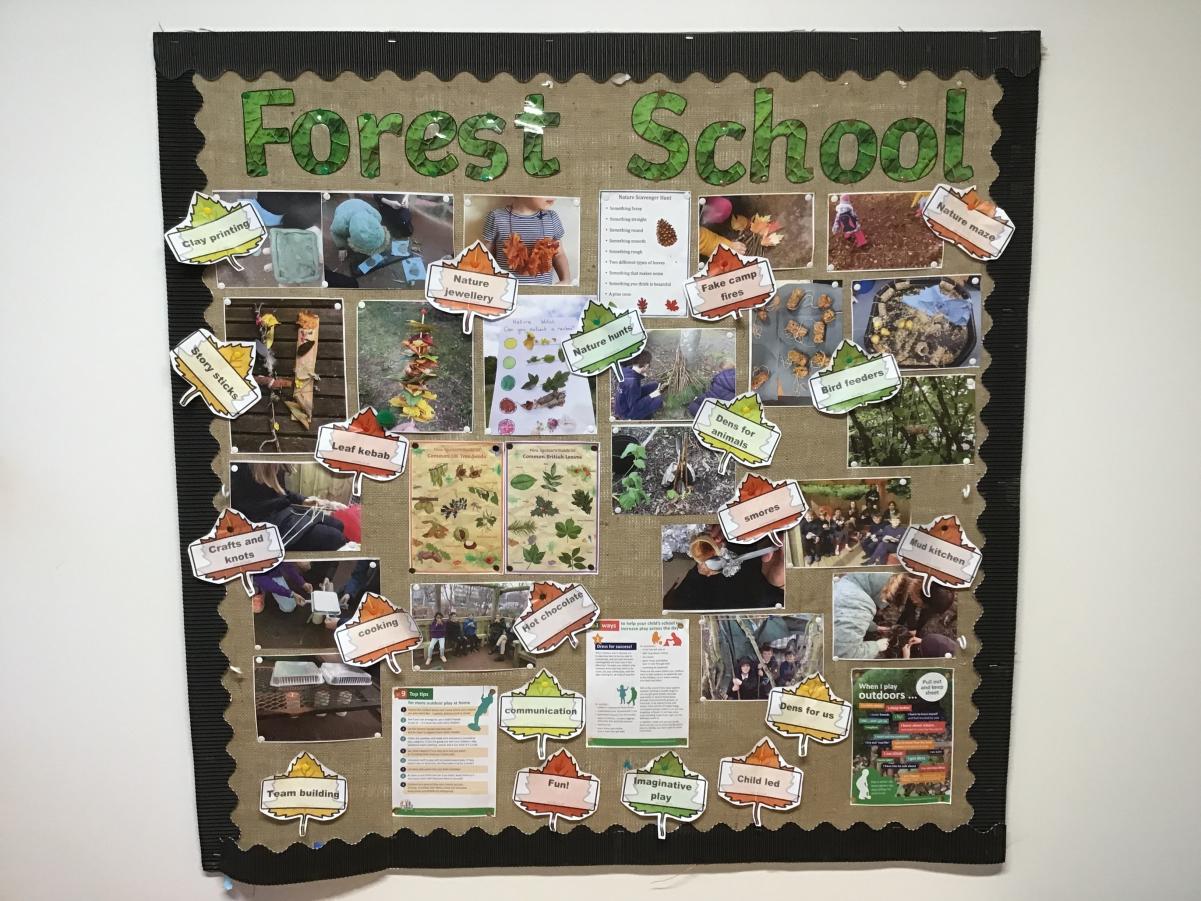 Monday 7 and Tuesday 8 November 2022
Forest School Open Event Autumn 2
A massive thank you to everyone who came and explored our Forest School site. It was lovely to be able to invite everyone in to see the site open again and to show an example of activities that can be offered. The new mud kitchen was very popular as well as some of the crafts like leaf necklaces and the scavenger hunt! Below are some of the feedback quotes that parents/ careers gave:
"Very good experience with my child. Good to see amazing nature place for them to learn and explore"
"A great space for children to learn about nature along with other skills. My child enjoyed climbing on the ropes"
"What a lovely space for the children and so calming. I think you could so nature bathing lying on those fab cushions"
"Love the forest school - so happy it will be open and accessible at lunchtime. Great opportunities for exploration. Cheers"
"Forest school is so lovely! What a wonderful opportunity for the children to learn outside and get a bit muddy! (after being so sanitised for so long)"
"My children had a great time, can't wait for the next invite"
Having a fire is the most requested activity that the children want to do on our site. Miss Salter has only recently qualified so she was unable to offer it previously and for this open event, it was not something that could be safely managed. Miss Salter does have plans to run a similar event with a fire element at some point in the year, providing it can be done safely.
Forest School Club Year 1 and 2
The children loved their chance for the Forest School Club. They suggested various activities they wanted to do including den building, crafts, some food and just a chance to explore! As Forest School is child led, each week the children chose what activity they wanted to do. Below are some examples of what they got up to
Forest School Club Year 5 and 6
The older children have loved their Forest School sessions. They all learnt how to start a fire using flint and steel - demonstrating lot's of resilience and patience. They have made some fantastic dens, explored the mud kitchen concocting up some delicious recipes and some have been busy planting and looking after all the vegetation. They asked if they could learn some knots to use in crafts so we had a week making nature mobiles, picture frames and one child even made a stool! They also requested some food so for their last night they made smores which we cooked in the oven - this was a highlight of theirs and they all asked to do it again.